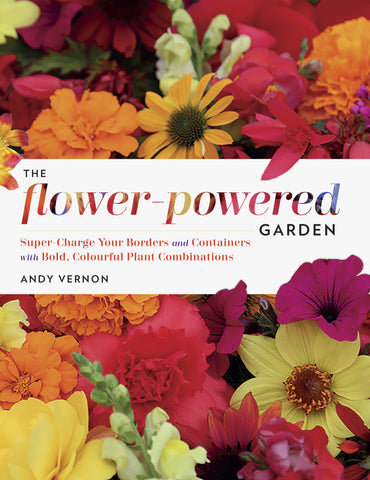 The Flower-Powered Garden
"Vernon's gorgeously illustrated guide…is an indispensable resource for anyone looking to add a powerful punch of color to their garden." —Library Journal

The Flower-Powered Garden urges home gardeners to embrace one of the most joyful and important parts of the garden—color! Andy Vernon, a self-professed flower fanatic, highlights perennials and annuals that pack a punch, and shares 15 color combinations that can be used in containers and gardens. The boisterous combinations are inspired by some of Vernon's favorite things—like sherbet, birds, and candy. A floripedia of 50 marvelous plants includes colorful favorites like dahlias, petunias, hollyhocks, fuchsias, and more. Vernon also shares basic gardening tips, with helpful advice on planting, watering, soil, and growing in containers. This colorful guide has everything you need to supercharge your garden with the power of flowers!