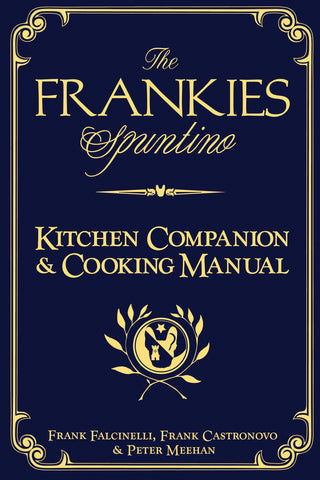 The Frankies Spuntino Kitchen Companion & Cooking Manual
From Brooklyn's sizzling restaurant scene, the hottest cookbook of the season...

From urban singles to families with kids, local residents to the Hollywood set, everyone flocks to Frankies Spuntino—a tin-ceilinged, brick-walled restaurant in Brooklyn's Carroll Gardens—for food that is "completely satisfying" (wrote Frank Bruni in The New York Times). The two Franks, both veterans of gourmet kitchens, created a menu filled with new classics: Italian American comfort food re-imagined with great ingredients and greenmarket sides. This witty cookbook, with its gilded edges and embossed cover, may look old-fashioned, but the recipes are just we want to eat now. The entire Frankies menu is adapted here for the home cook—from small bites including Cremini Mushroom and Truffle Oil Crostini, to such salads as Escarole with Sliced Onion & Walnuts, to hearty main dishes including homemade Cavatelli with Hot Sausage & Browned Butter. With shortcuts and insider tricks gleaned from years in gourmet kitchens, easy tutorials on making fresh pasta or tying braciola, and an amusing discourse on Brooklyn-style Sunday "sauce" (ragu), The Frankies Spuntino Kitchen Companion & Kitchen Manual will seduce both experienced home cooks and a younger audience that is newer to the kitchen.