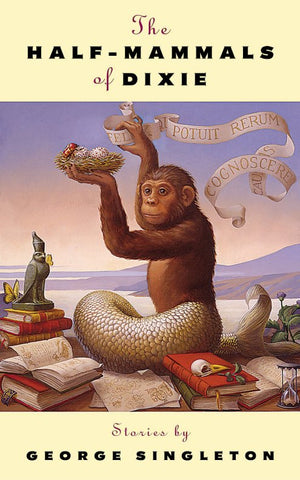 The Half-Mammals of Dixie
George Singleton, who's had many stories published in the best literary journals, has recently burst into the big time with appearances in Playboy, Zoetrope, The Atlantic Monthly, Harper's Magazine and Book. The stories in his new collection are wild and wooly - or maybe we should say wild and half-wooly. In any case, they're definitely not for the creationist crowd or for the laughter impaired. For example:
- A self-described "primitive artist," getting rich off religious canvases, is mistaken for a faith healer.
- A lovelorn dad woos his third grader's teacher with very special show-and-tells, including long lost love letters to Shakespeare from Anne Hathaway, to Fred Astaire from Ginger Rogers, and to Henry VIII from all of his wives.
- A boy's reputation is ruined forever when he accepts the starring role in a documentary on diagnosing head lice.
Off-the-wall. But also utterly believable and written with tremendous affection for the people and their place-a place called Forty-Five, part of the contemporary South that's far removed from big city Atlanta or proper Charleston and, in fact, much like Singleton's own hometown of Dacusville, South Carolina. As he says of his characters, "They're regular people just trying to get by. Most of them aren't jaded by everyday life, though perhaps they should have been long ago. There are some with physical and mental limitations, but I hope all of them have heart."
They do indeed, just like their stories.