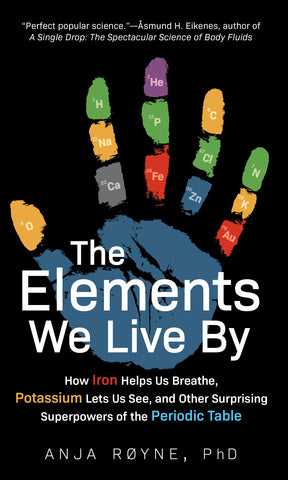 The Elements We Live By
The periodic table as you've never seen it before—starring the elements that power our bodies and our way of life

Some elements get all the attention: glittering gold, radioactive uranium—materials we call "precious" because they are so rare. But what could be more precious than the building blocks of life—from the oxygen in our air to the carbon in all living things?

In The Elements We Live By, physicist and award-winning author Anja Røyne reminds us that we'd be lost without the quiet heroes of the periodic table. Our bodies need phosphorous to hold our DNA together, potassium to power our optic nerves, and many more elements—in just the right amounts—to function. Other fundamental elements keep our technology (and society) running: Our phones contain arsenic, boron, and gallium to control signals and store information; indium and tin for the touch screen; and lithium for the battery.

Everything is made of elements—every galaxy, star, and planet—from the iron in Earth's core to the silicon in its sand. But that doesn't mean the elements we rely on will never run out; for example, about half of the lithium we need is extracted from rocks in Australia, and the other half is from saltwater in Argentina and Chile. As Røyne travels the world to find where these elements exist (some in ever-shrinking amounts), she shows how vitally urgent it is for us to protect them—the elements of our very existence.