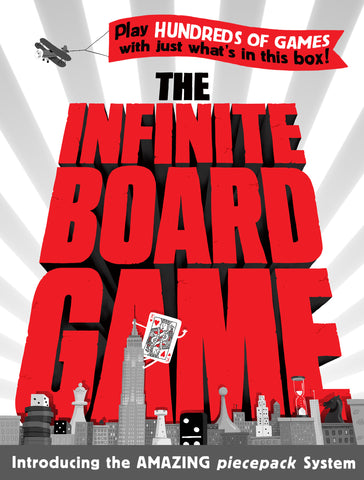 The Infinite Board Game
Infinite games, infinite fun, infinite possibilities. The Infinite Board Game—meticulously edited and curated by W. Eric Martin, a widely respected figure in the gaming world—combines a complete, custom-designed 56-part piecepack system with a full-color book containing instructions for 50 of the liveliest games to play.

Designed by James Kyle to be for board games what a deck of cards is for card games, the piecepack system is a 56-piece gaming set that can be used to play hundreds and hundreds of board games, both classic and newly created. A piecepack includes dice, pawns, tiles, and coins and is already an online phenomenon among gamers.

It's the perfect kit for game night with friends, for families, for board game lovers of all ages. There are classic games: Checkers and a version of the ancient Indian game Pachisi. Games for one: Piece Gaps, Landlocked, Crocodile Hop, and Fuji-san—possibly the most entertaining way to kill 15 minutes by yourself. Plus, destroy the enemy in Sea Battle; play the part of a corporate bigwig in Takeover; and get the adrenaline going with Moto-X. You can also go online to join the piecepack community and discover hundreds more games to play.