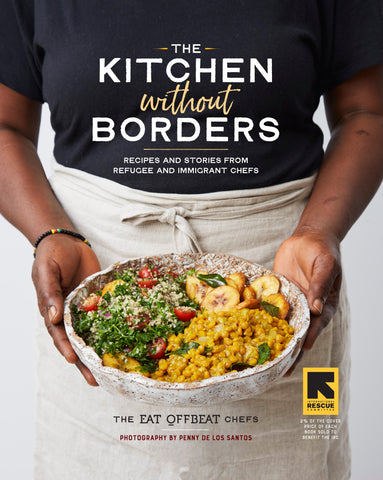 The Kitchen without Borders
Refugees by status, chefs by calling.
The Kitchen Without Borders is a special kind of cookbook. In it, chefs from around the world – all part of Eat Offbeat, a catering company staffed by immigrants and refugees who have found a new home and new hope through cooking- offer up to 70 authentic, surprising, nourishing recipes. The food has roots that run as deep as its flavors, celebrating the culinary traditions of Syria, Iran, Eritrea, Venezuela, and more. Discover Iraqi Biryani, a rice dish combining vegetables and plump dried fruits with warming spices. Chari Bari, hand formed meatballs simmered in Nepali- spiced tomato and cashew sauce. Iranian rice with garbanzos, Sri Lankan curry dhal, and Manchurian cauliflower straight from the Himalayas. More than a collection of delicious foods from around the world, this inspiring cookbook- with its intimate chef profiles and photographic portraits-offers a glimpse into the journey of displaced people and highlights the profound link between food and home.
*From March 1, 2021, to March 1, 2022, (including any preordered copies that ship during this period), Workman Publishing will donate 2% of the cover price for every copy of The Kitchen without Borders cookbook sold in the United States and its territories, the United Kingdom, Canada, Australia and European Union member states, to the IRC, a not-for-profit organization dedicated to providing humanitarian aid, relief and resettlement to refugees and other victims of oppression, conflict, or disaster with a minimum contribution of $25,000 USD. For more information, visit rescue.org/cookbook and https://www.workman.com/kwob. No portion of the purchase price is tax-deductible. For additional information about the IRC, see rescue.org.