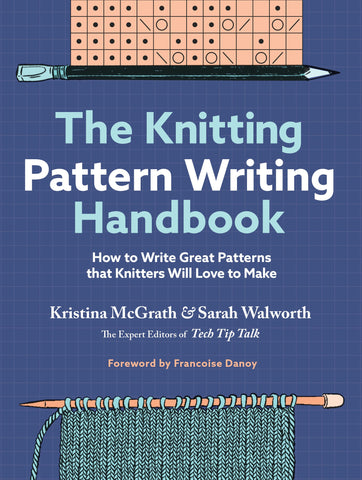 The Knitting Pattern Writing Handbook
Take your knitting knowledge to the next level with this helpful guidebook from two professional knitting tech editors that sets much-needed standards for writing clear, accurate instructions—perfect for those interested in writing and selling original patterns.
Knitting patterns are notorious for inaccuracies in measurements and confusing directions—but no more! 
The Knitting Pattern Writing Handbook
 sets new standards for clear, accurate pattern writing, walking aspiring and experienced designers alike through each must-have component of a thorough, well-written pattern, including how to devise and present gauge, charts, and sizing information that is correct and easy-to-follow. With a focus on how to make patterns accessible to contemporary knitters—especially beginning knitters—this much-needed reference book is destined to become a classic in an industry that is beginning to professionalize after decades (even centuries!) of informal and home-based instruction. With 90,000 patterns being sold annually on the popular knitting community site Ravelry, there's a burgeoning group of indie knitwear designers eager for this guidance, provided by authors Kristina McGrath and Sarah Walworth, who host a monthly live broadcast on the technical aspect of knitting design.