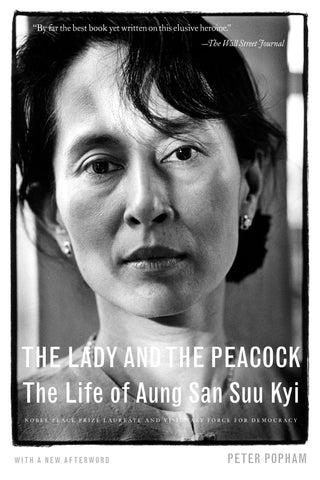 The Lady and the Peacock
Nobel Peace Prize Laureate Aung San Suu Kyi—known to the world as an icon for democracy and nonviolent dissent in oppressed Burma, and to her followers as simply "The Lady"—has recently returned to international headlines. Now, this major new biography offers essential reading at a moment when Burma, after decades of stagnation, is once again in flux.
Suu Kyi's remarkable life begins with that of her father, Aung San. The architect of Burma's independence, he was assassinated when she was only two. Suu Kyi grew up in India (where her mother served as ambassador), studied at Oxford, and worked for three years at the UN in New York. In 1972, she married Michael Aris, a British scholar. They had two sons, and for several years she lived as a self-described "housewife"—but she never forgot that she was the daughter of Burma's national hero.
In April 1988, Suu Kyi returned to Burma to nurse her sick mother. Within six months, she was leading the largest popular revolt in the country's history. She was put under house arrest by the regime, but her party won a landslide victory in the 1990 elections, which the regime refused to recognize. In 1991, still under arrest, she received the Nobel Peace Prize. Altogether, she has spent over fifteen years in detention and narrowly escaped assassination twice.
Peter Popham distills five years of research—including covert trips to Burma, meetings with Suu Kyi and her friends and family, and extracts from the unpublished diaries of her co-campaigner and former confidante Ma Thanegi—into this vivid portrait of Aung San Suu Kyi, illuminating her public successes and private sorrows, her intellect and enduring sense of humor, her commitment to peaceful revolution, and the extreme price she has paid for it.