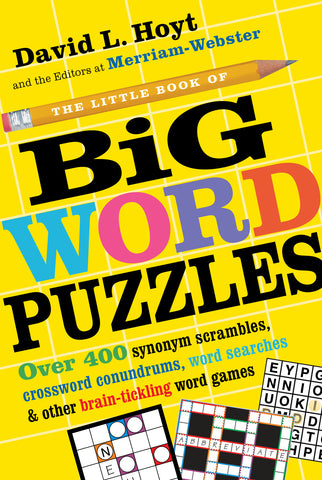 The Little Book of Big Word Puzzles
A pocket-sized brain gym! Mental games, visual conundrums, logic posers, riddles, illusions—in all, over 500 dazzling, full-color puzzles designed to stretch neurons and shake up your usual way of thinking.

Be creative. Be challenged. Push your brain in different directions. The puzzles are organized by 12 types with 10 levels of difficulty, each designed to make you feel more curious, intuitive, engaged, and smarter.
 
Written by David L. Hoyt, the most syndicated puzzle writer in the country, with Merriam-Webster, America's most trusted dictionary. All in a travel-friendly, gift-friendly 4" x 6" chunky size.

In Mixed-Up Definition, unscramble the letters to reveal the definition of a given word. In Syllabary, use the clues to link syllables in a grid to create words. In Cross'd Word Connections, find the letters in common to help solve a series of four crossword puzzles. Plus Dictionary Race Winder, Make the Connection, Color Word Chains, Prism Word Finder, and other clever riffs on word searches.

The book features 20 puzzle types, which are arranged in a mixed fashion throughout for maximum variety and stimulation. They range in difficulty from an easy "1" to a brain-busting "10"—so puzzle lovers of all skill levels will be tested— and include spaces for recording completion times. Each puzzle type is explained in clear instructions, and all answers are printed in the back.