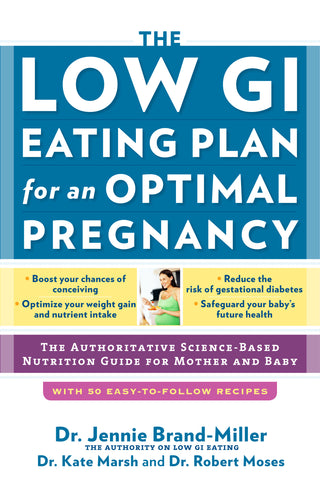 The Low GI Eating Plan for an Optimal Pregnancy
A scientifically proven, safe and effective program to help boost your chances of conceiving, ensure a healthy pregnancy, avoid gestational diabetes and give your baby the best possible start toward lifelong health.

The Low GI Eating Plan for an Optimal Pregnancy—written by the world's leading experts on the glycemic index (GI)—will help you to clearly understand the connection between the food you eat, your blood glucose levels, and your baby's future health. The focus is on low GI carbohydrates—vital at this time, because reducing the GI of your diet is one of the safest and most effective ways to ensure that your baby grows at the optimal rate, without you gaining excessive body fat and without compromising nutrition during this important stage of life.

This book will show you how to optimize your diet—pre-conception, during pregnancy, and once your child has been born—to ensure a healthy baby and a healthy mom, and includes:
• What to be aware of once you're eating for two
• How to ensure your weight gain is healthy
• The importance of blood glucose in pregnancy (and why gestational diabetes is a big deal)
• 8 guiding principles that make it easy to put everything into practice
• The best foods to eat—as well as the ones to avoid
• 50 delicious, quick, and easy low GI recipes, plus sample menu ideas
• Helpful checklists and guidance on how to exercise safely.

The Low GI Eating Plan for an Optimal Pregnancy is the only book specifically for pregnancy written by internationally recognized scientists qualified in nutrition, dietetics, and diabetes. It is an essential, authoritative guide for all mothers-to-be and new moms.