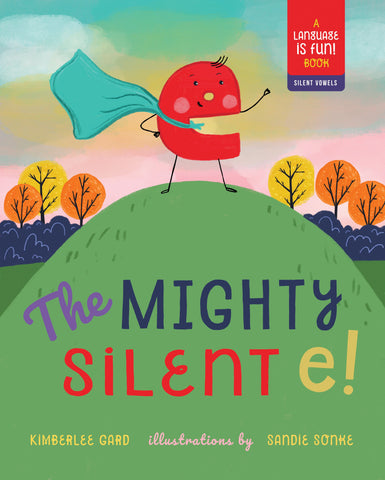 The Mighty Silent e!
Little e is sure he could be a hero—he even has the cape to prove it! But at school, he is so quiet, he just doesn't stand out. That is, until one day when Little e doesn't show up to class. The other letters don't even notice he's gone at first, but when c, a, and k try to form a word for dessert, they realize that no matter what they do, they can't make it work. The whole class is in an uproar! Without their silent friend, what are they going to do? Will Little e finally get his chance to come to the rescue?
With adorable illustrations, helpful examples, and a cute classroom setting, The Mighty Silent e teaches spelling and vowel sounds in a new, exciting way that is sure to engage and successfully teach even the most stubborn reader. And its message about how every child's identity and diversity is valued through the clever story will encourage children to celebrate their unique contribution.