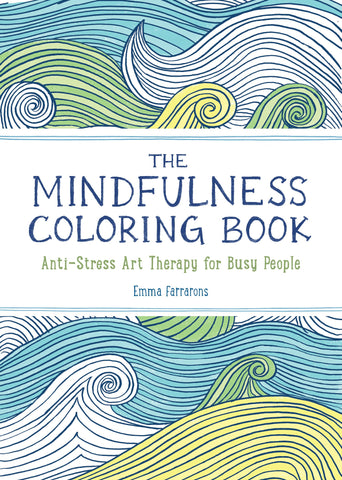 The Mindfulness Coloring Book: The #1 Bestselling
A fun and unique pocket-size coloring book with 100 pages designed to channel stress into relaxing, creative accomplishments

#1 National Bestseller • NPR Books Bestseller • #1 Boston Globe Bestseller • #1 San Francisco Chronicle Bestseller • A Publishers Weekly Bestseller • 2016 Best Toy Award from Learning Express

In today's busy world, finding a moment of peace and calm can be a challenge. Mindful coloring is a simple yet powerful practice that combines the proven, time-honored tradition of thoughtful meditation with the growing popularity of adult coloring books, and shows that any activity, done right, can be an exercise in mindfulness.

In The Mindfulness Coloring Book, accomplished illustrator Emma Farrarons presents 70 intricate and beguiling patterns to help you color your way to tranquility. Here are flowers, leaves, butterflies, and birds alongside rolling waves and kaleidoscopic designs.

Perfectly sized to fit into a pocket or handbag, and printed on high-quality paper that will ensure hours of bliss, The Mindfulness Coloring Book is ready to help you de-stress wherever you go. So take a few minutes out of your hectic schedule to reset and refresh with mindful coloring—and relive the days when your biggest concern was staying within the lines!

Reinforced binding with strong glue allows you to open and lay this book flat to color with intricate detail without breaking the spine.