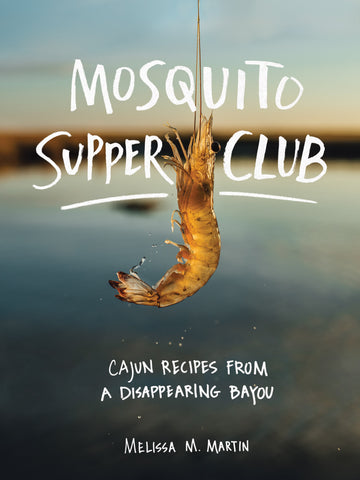 Mosquito Supper Club
Winner, James Beard Award for Best Book in U.S. Foodways
Winner, IACP Book of the Year
Winner, IACP Best American Cookbook
An NPR Best Book of the Year
A Saveur, Washington Post, and Garden & Gun Best Cookbook of the Year
A Bon Appétit, Food & Wine, Eater, Epicurious, and The Splendid Table Best New Cookbook
A Forbes Best New Cookbook for Travelers: Holiday Gift Guide 2021
Long-Listed for The Art of Eating Prize for Best Food Book of 2021

"Sometimes you find a restaurant cookbook that pulls you out of your cooking rut without frustrating you with miles long ingredient lists and tricky techniques. Mosquito Supper Club is one such book. . . . In a quarantine pinch, boxed broth, frozen shrimp, rice, beans, and spices will go far when cooking from this book." 
—Epicurious, The 10 Restaurant Cookbooks to Buy Now

"Martin shares the history, traditions, and customs surrounding Cajun cuisine and offers a tantalizing slew of classic dishes."
—Publishers Weekly, starred review

For anyone who loves Cajun food or is interested in American cooking or wants to discover a distinct and engaging new female voice—or just wants to make the very best duck gumbo, shrimp jambalaya, she-crab soup, crawfish étouffée, smothered chicken, fried okra, oyster bisque, and sweet potato pie—comes Mosquito Supper Club.
 
Named after her restaurant in New Orleans, chef Melissa M. Martin's debut cookbook shares her inspired and reverent interpretations of the traditional Cajun recipes she grew up eating on the Louisiana bayou, with a generous helping of stories about her community and its cooking. Every hour, Louisiana loses a football field's worth of land to the Gulf of Mexico. Too soon, Martin's hometown of Chauvin will be gone, along with the way of life it sustained. Before it disappears, Martin wants to document and share the recipes, ingredients, and customs of the Cajun people.
 
Illustrated throughout with dazzling color photographs of food and place, the book is divided into chapters by ingredient—from shrimp and oysters to poultry, rice, and sugarcane. Each begins with an essay explaining the ingredient and its context, including traditions like putting up blackberries each February, shrimping every August, and the many ways to make an authentic Cajun gumbo. Martin is a gifted cook who brings a female perspective to a world we've only heard about from men. The stories she tells come straight from her own life, and yet in this age of climate change and erasure of local cultures, they feel universal, moving, and urgent.