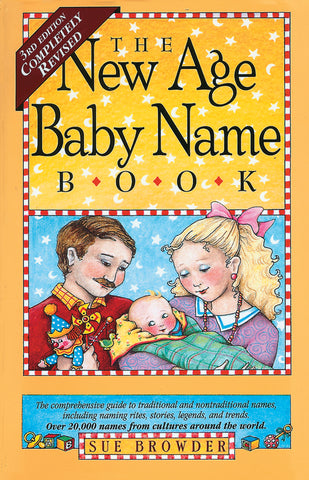 The New Age Baby Name Book
Completely revised, updated, and expanded, The New Age Baby Name Book is the quirky naming guide that has outlasted the trendiness of New Age. Now at 512 pages, with 10,000 new names for a total of 20,000, with over 125 new sidebars filled with naming rites, stories, trends, and reverse trends, cultural trivia, and quotes, it is the definitive resource for parents who wish to celebrate their child's life with a very special name, right from the outset.

Classic, popular, offbeat, and even gender-neutral, the entries are culled from dozens of cultures and traditions, and include pronunciation guides, meanings, and variations. Here are Native American names, Gaelic names, Swahili names, Arabic names, native Hawaiian names. There are Hebrew names and modern Israeli names, Old Welsh, Middle English, and contemporary Anglicized names. And for parents who wish to create an original name for their child, 12 delightful techniques--from anagrams (get out the Scrabble board) to telescoping from trends and respellings--for coming up with that perfect, one-of-a-kind name. In addition, readers discover naming practices from around the world, the psychology of names, which names sound the most educated and which the least, occupation names, power names for women, and more.

140,000 copies in print.