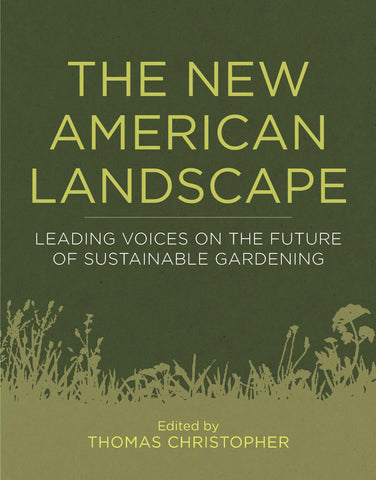 The New American Landscape
Gardeners are the front line of defense in our struggle to tackle the problems of global warming, loss of habitat, water shortages, and shrinking biodiversity. In
The New American Landscape
, author and editor Thomas Christopher brings together the best thinkers on the topic of gardening sustainably, and asks them to describe the future of the sustainable landscape. The discussion unfolds from there, and what results is a collective vision as eloquent as it is diverse.
The New American Landscape
offers designers a roadmap to a beautiful garden that improves, not degrades the environment. It's a provocative manifesto about the important role gardens play in creating a more sustainable future that no professional garden designer can afford to miss.
John Greenlee and Neil Diboll on the new American meadow garden
Rick Darke on balancing natives and exotics in the garden
Doug Tallamy on landscapes that welcome wildlife
Eric Toensmeier on the sustainable edible garden
David Wolfe on gardening sustainable with a changing climate
Elaine Ingham on managing soil health
David Deardorff and Kathryn Wadsworth on sustainable pest solutions
Ed Snodgrass and Linda McIntyre on green roofs in the sustainable residential landscape
Thomas Christopher on waterwise gardens
Toby Hemenway on whole system garden design
The Sustainable Site Initiative on the managing the home landscape as a sustainable site