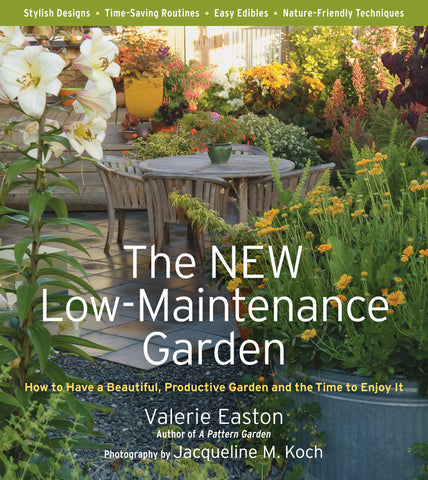 The New Low-Maintenance Garden
Do you ever lament that you'd love to be able to garden more, but just don't have the time? The demanding pace of modern life leaves little space for the pleasures of gardening. On the other hand, gardening itself could be the culprit: elaborate, traditional perennial borders; water-hungry or disease-prone plants; needy lawns; and high-maintenance plants that require staking or clipping all suck up precious hours.

Simply put, we need to start gardening in a whole new way. In this inspiring book, Val Easton shows exactly how to have a low-maintenance garden that doesn't sacrifice style. You won't have to give up your favorite plants or settle for expanses of ugly bark nuggets. You just have to unlearn some bad old habits and pick up some good new ones.

So, how do you go about making a "new" low-maintenance garden? First, design your garden with maintenance in mind—good-looking hardscape will both save weeding time and showcase your favorite plants. Second, simplify your garden routines—learn the most efficient planting and maintenance techniques and don't get stressed if everything isn't letter-perfect. Third, learn how to work with nature rather than against it. And finally, embrace home-grown fruits, herbs, and vegetables; well planted containers; and thoughtfully chosen plants.

The New Low-Maintenance Garden doesn't just tell you how to garden in a whole new way—it shows you, through profiles and beautiful photographs of real gardens that embody low-maintenance techniques.

The pressures of life are not likely to ease up anytime soon, but the lessons of this timely book will help you banish guilt over undone garden chores and revel in your garden successes.