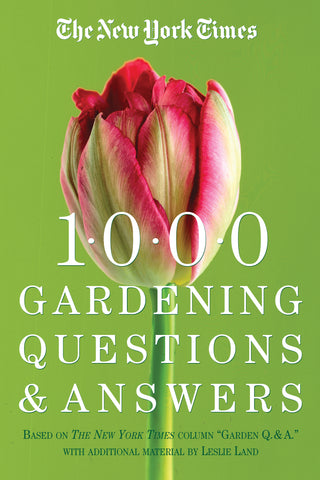 The New York Times 1000 Gardening Questions and Answers
Authoritative, accessible, and engaging, here is a new reference from The New York Times, a comprehensive, nearly 700-page bible of all the garden news that's fit to print. Based on "Gardeners Q&A." the enormously popular syndicated column, 1000 Gardening Questions and Answers is like a passionate conversation between gardeners and gardening experts. Every week readers from around the country send in their most vexing problems--how to divide perennials, prune raspberry canes, grow basil that really tastes like basil, get rid of earwigs, find long-lost varieties of flowers, keep honeysuckle under control--and every week, the authorities at the Times write a column full of answers.

Carefully selected, updated, and expanded by Leslie Land, one of the column's two authors, here are 1,000 Q&As that add up to an informal encyclopedia of gardening knowledge. The book covers flowers, trees, shrubs, the lawn, vegetables, herbs, fruit, indoor plants, soil, pests, and troublemakers. It addresses problems and provides answers to difficulties in every North American zone. Hundreds of line drawings illustrate the book, providing botanical identification and demonstrating how-to gardening techniques. In addition, sidebars throughout supply supplemental information--"Dos and Don'ts of Deadheading," "Annuals that Beat the Heat," "To Prune or Not to Prune: The Clematis Question," "Air Layering," "Windowsill Bonsai"--plus quirky facts, trivia, lore, and myth. It's big, it's got heft, it's filled to the brim with information. And it's so lively, it reads like a novel--and belongs on every gardener's potting bench and bedside table.