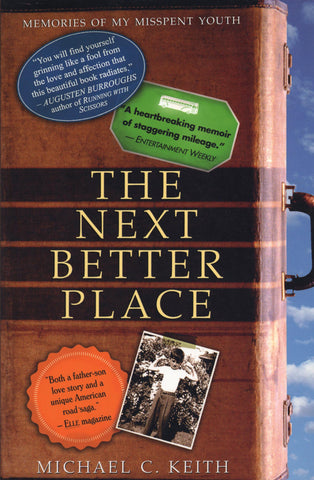 The Next Better Place
In 1959, at the age of eleven, Michael Keith left a relatively stable life with his mother and sisters in Albany, New York, and surreptitiously set off for California with his irresponsible alcoholic father. For the rest of Michael's childhood, the two crisscrossed America, perpetually en route to someplace else. His memoir, told in the fresh, funny, world-wise voice of the young boy he once was, describes their bizarre encounters hitchhiking the nation's highways. In the rundown rooming houses and homeless missions where they hole up as Michael's father works odd jobs to make enough money for them to move on, or in the AA meetings they attend in every city for a decent doughnut, we glimpse a different America. Pushed onward by Michael's unceasing thirst for new adventures and his father's dreams of the next better place, the careworn twosome live far outside convention.
But despite their peculiar, often dysfunctional life, there is real love between this father and son, and they share the glorious freedom of the peripatetic life. That such happiness exists in a lonely marginal universe doesn't overshadow the fact that a Greyhound bus is the closest Michael comes to experiencing the idea of home. THE NEXT BETTER PLACE explores the fine line between wanderlust and compulsion, between running away and arriving, and leaves us with the understanding that the journey is often more powerful than the destination.