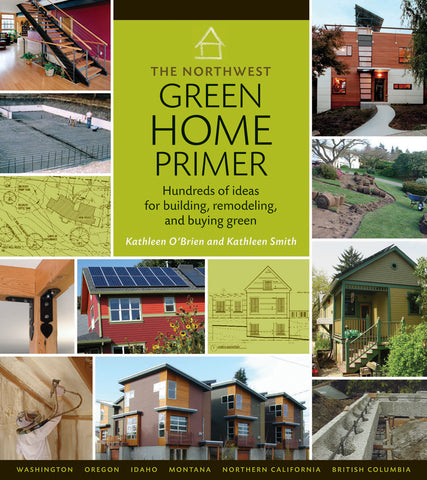 The Northwest Green Home Primer
The essential, real-world, green home manual

Everyone can make green home decisions on a budget with this inspiring, informationpacked guide. Whether you are building, remodeling, buying, or just curious, here are real-world strategies for getting the greenest results from your budget, with hundreds of ideas for a home that is built to last, comfortable and healthy, money- and time-saving in the long term, and kind to the planet. From your home's exterior to its operating systems within, from siting to interior design, this is the basic training that has given many the confidence to proceed. Award-winning sustainable design and building consultant and teacher Kathleen O'Brien and architectural designer and sustainability consultant Kathleen Smith offer their "top picks" for each phase. They've also each faced their own green home challenges in a single-family house and a duplex, and other case studies show affordable energy-efficient green homes both old and new. Brimming with ideas, clear and logical, with tips, checklists, and resources for green home planning, construction, remodeling, and maintenance, extensively illustrated with photos and diagrams, this is the essential green home manual for novice and professional alike.