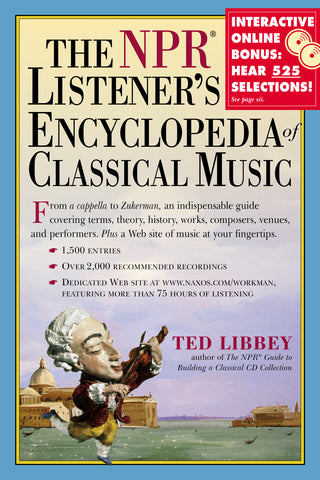 The NPR Listener's Encyclopedia of Classical Music
A complete education in classical music, written with verve and wit. No music lover can pick up this one-volume compendium without becoming a more knowledgeable, discerning listener. • The sonata form revealed, and why it's been deeply satisfying for three centuries. • What to listen for in Brahms, a self-described Classicist who was one of music's great innovators. • Pizzicato, fioritura, parlando, glissando. • The transformative power of Toscanini–who earned more conducting the New York Philharmonic than his contemporary Babe Ruth made with the Yankees. • And throughout, more than 2,000 recommended recordings.

Log on and listen. Created with Naxos, the world's largest classical music label, the book includes a unique Web site featuring more than 500 examples cited in the text. Look up barcarolle. First read about its swaying 6/8 meter and Venetian origins; then log on to the music Web site and hear it performed in Act IV of Offenbach's Les contes d'Hoffmann. If that whets your curiosity about Offenbach, click to hear the cancan in his La vie parisienne. All online samples are marked by an icon in the text.