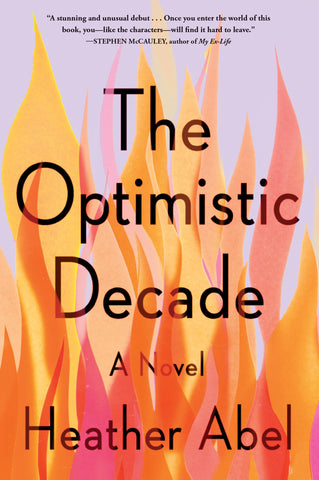 The Optimistic Decade
"Abel is a perceptive writer whose astute observations keep the book funny and light . . . An exploration of the limits of idealism . . .  subversive." —The New York Times Book Review
A smart and sly story about a utopian summer camp, a charismatic leader, and the people who are drawn to his vision, The Optimistic Decade follows four unforgettable characters and a piece of land that changes everyone who lives on it.

There is Caleb, founder of the back-to-the-land camp Llamalo, who is determined to teach others to live simply. There is Donnie, the rancher who gave up his land to Caleb and who now wants it back. There is Rebecca, determined to become an activist like her father and undone by the spell of both Llamalo and new love. And there is David, a teenager who has turned Llamalo into his personal religion.

The Optimistic Decade brilliantly explores love, class, and the bloom and fade of idealism, and asks smart questions about good intentions gone wrong.