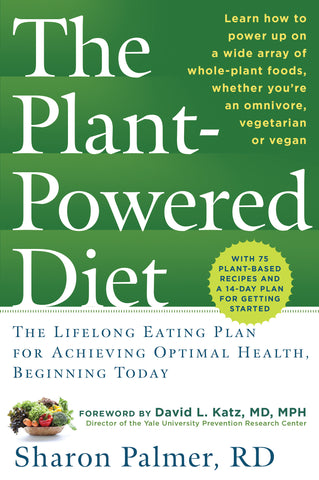 The Plant-Powered Diet
Harness the power of whole-plant foods to lead a long and vibrant life—whether you're vegan, vegetarian or omnivorous.
Eat more whole plants. This simple recommendation is at the heart of a building consensus: The healthiest diet is a plant-based diet. Plants have spent millions of years evolving their defenses against disease. Now, studies indicate that by eating whole, minimally processed plant foods, humans too can gain protection—against everyday illness, diabetes, obesity, depression, mental decline, heart disease, and even cancer.
In The Plant-Powered Diet, registered dietitian Sharon Palmer marshals the most up-to-date findings in nutrition to explain both why you should fill more of your plate with whole-plant foods and how to do so, whether you're a longtime vegan or a committed omnivore. Here is:
• Essential information on the healthiest plant foods—whole grains, vegetables, fruits, nuts, legumes, and even herbs, spices, chocolate, coffee, tea, and wine
• Advice for navigating the supermarket, kitchen, restaurant menus, on-the-go meals, exercise, and more
• A 14-day meal plan, plus daily action alerts to get you started
• And 75 original plant-based recipes for every meal—all with complete nutritional data.
The Plant-Powered Diet is not a diet you'll go "on" today and "off" tomorrow. It is a simple, satisfying, and thoroughly delicious way of eating that can not only last your lifetime—but lengthen it.