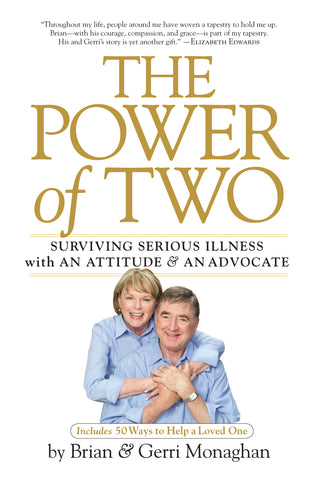 The Power of Two
The Power of Two has the power to change lives. This much-needed book combines an inspiring story of hope and survival with a compelling practical blueprint for how to be a loved one's advocate. And if ever there was a time when a chronically ill or disabled person needs an advocate, that time is now, with HMOs, the medical establishment, and patients in a chaotic free-for-all.

Brian Monaghan, a fifty-nine-year-old lawyer at the top of his game, got the news that all of us dread—Stage IV melanoma had metastasized to his brain; he was given three to six months to live. That night Brian and his wife Gerri made a pact: "We are going to love and laugh and fight this. And we are going to win." That was ten years ago. Between Brian's courage and attitude, and Gerri's determination to stand up for him—tirelessly researching options, reaching out to friends, family, and anyone who could help, resisting the status quo, and always thinking in terms of "we"—they did win. This book is the story of that journey, told back and forth between them. utterly riveting, inspiring, and uplifting, it is a road map for everyone facing a tough medical challenge, and for the people who love them.

Along the way, Gerri lists her top 50 tips for how to be an advocate: #1 Trust your intuition. #6 Create a battle plan. #15 Get copies of records. #26 Make doctors speak in a language that you understand. #49 This is not a dress rehearsal.