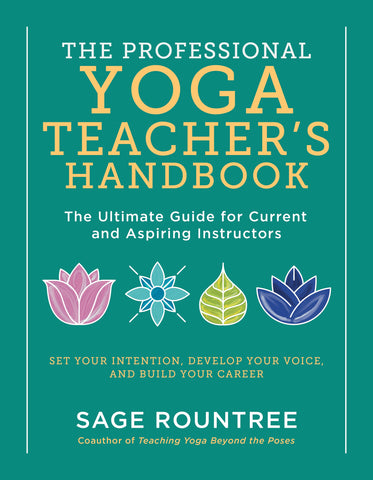 The Professional Yoga Teacher's Handbook
The ultimate guide to the yoga profession—at every stage of your teaching career
Yoga has helped you, and now you want to share what you've learned. Maybe you've just graduated from yoga teacher training, and you're wondering how to take your next steps. Or perhaps you've been teaching for a while, but you feel unsure about how to get a studio job, develop a workshop, establish clear boundaries with your students, or level up in your career.
Wherever you are,
The Professional Yoga Teacher's Handbook
will help you choose a wise path toward where you want to be. Sage Rountree mines her decades of experience as a yoga teacher, teacher trainer, and studio owner to offer guidance at every turn:
Land your first job, and smartly manage your schedule, money, and energy
Prepare outside the classroom to ensure that each class is a good one
Keep pace with changing Yoga Alliance standards and the expanding world of online teaching
React in real time to students' needs (and gently teach studio etiquette)
Figure out whether you want to become a full-time teacher, own a studio, take private clients, lead yoga teacher trainings—or all of the above.
Throughout, thoughtful prompts encourage you to articulate your principles, vision, and plans. Instead of telling you
what
to teach, this book will guide you to your own answers—first and foremost, by asking: How can my teaching be of greatest service to my students?