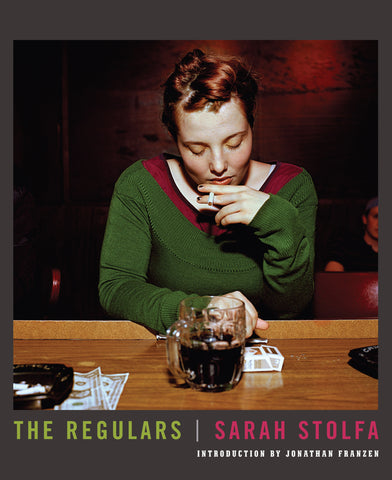 The Regulars
A bartender-photographer trains her eye on the patrons at McGlinchey's bar

It's four o'clock in the afternoon and the regulars start to file into the perpetual twilight of a downtown bar in Philadelphia. Bartender Sarah Stolfa pours out the drinks then picks up her camera.

McGlinchey's is a haven for drinkers from all walks of life: You'll meet the rebellious college student with pink-streaked hair and a bottle of hangover-inducing brew; the sharply dressed businessman with a yearning look; the pensive loner carefully ignoring his newspaper and bag of chips; and the former prom king with his tie and V-neck sweater, double fisting a shot and a beer.

The urban bar experience is brought to life in these pages, topped off with an introduction written by best-selling author Jonathan Franzen and Stolfa's own meditations on finding her inspiration while tending bar. For young hipsters, grizzled old-timers, and everyone in between, The Regulars is as elegant as an Old Master painting and as down-home as a bottle of Bud.