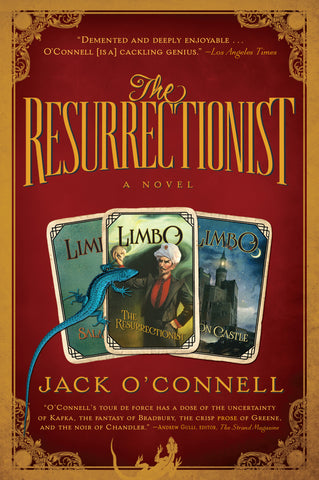 The Resurrectionist
Gritty noir fiction, mind-bending fantasy, and medical thriller combine in a new novel by an author dubbed the "cyberpunk Dashiell Hammett."

Sweeney is a druggist by trade; Danny, his son, is in a persistent coma, the victim of an accident. Hoping for a miracle, they have come to the Peck Clinic, a fortresslike haven in a post-industrial city overrun by gangs. Doctors there claim to have resurrected two patients who were similarly lost in the void.

Gradually, Sweeney realizes that the cure for his son's condition may lie in "Limbo," a fantasy comicbook world into which Danny had been drawn at the time of his accident. Plunged into the intrigue that surrounds the clinic, Sweeney searches for answers and instead finds sinister back alleys, brutal dead ends, and terrifying rabbit holes of mystery.

Full of puzzles and surprises, The Resurrectionist is a surreal, gothic meditation on identity, the nature of consciousness, the power of stories, love, mad scientists, circus freaks, and ultimately forgiveness—both giving and receiving.