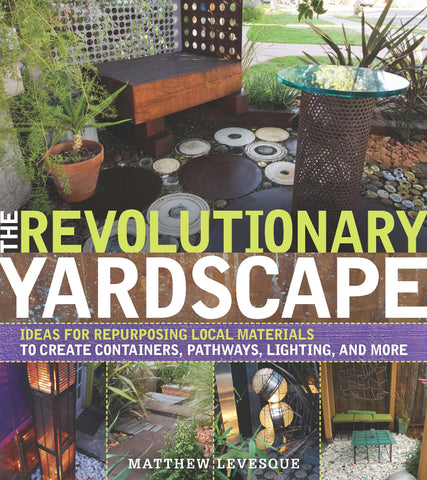 The Revolutionary Yardscape
Budget-friendly, environmentally sound, and one-of-a-kind, discovering new uses for what you already have or what you discover in the salvage yard is truly living local. It reduces a garden's environmental impact, saves money, and—most importantly—is fun and creative. From making pathways out of scrap wood and metal to creating garden lights from discarded indoor fixtures, The Revolutionary Yardscape features dozens of garden design projects and inspirational ideas for taking advantage of salvaged materials found in the home, junkyard, or thrift store.

A master of using reclaimed items, expert Matthew Levesque covers the basics of hardscaping, garden construction, and outdoor decor using local materials. He includes essential techniques and step-by-step guidance for transforming unconventional salvaged materials into pathways, decking, fences, screens, containers, seating, and more. The Revolutionary Yardscape also shows readers how to see the beauty and possibility in salvaged materials. Levesque gives tips on how to think outside the garden box — from imagining a pile of old keys becoming a rain chain to seeing the infinite possibilities in scrap metal and piping.

This new set of skills embraces the idea of finding an object first and letting the design plan follow. Vividly illustrated with photographs of exciting contemporary projects, The Revolutionary Yardscape will make gardeners think outside the box by designing with unexpected materials.