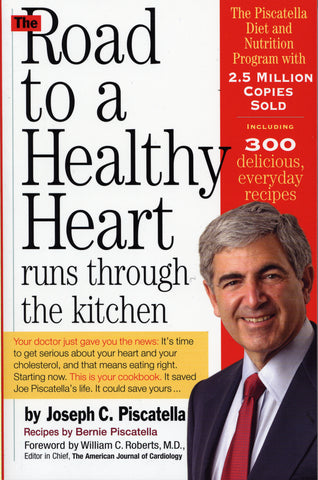 The Road to a Healthy Heart Runs through the Kitchen
The bible used by heart patients and recommended by thousands of hospitals, The Road to a Healthy Heart is the cardiac patient's step-by-step guide to cooking and eating in the real world. Born out of Joe Piscatella's own experience of coming back from emergency bypass surgery—and his wife's determination to gather the recipes and prepare the foods that would keep her husband alive—this is a complete 10-years-in-the-making revision of the classic Don't Eat Your Heart Out Cookbook.

With: Silver Dollar Pancakes, Grilled Steak and Onion Salad, Tex-Mex Pizza, Linguine with Clam Sauce, Warm Caramel Pears, and Apple Cranberry Crisp.

The furthest thing from a diet of deprivation, these 300 family-friendly, Mediterranean-style recipes will help you prevent, manage and perhaps even reverse heart disease, lose weight and keep it off, and enjoy the double benefit of good health and good cheer.