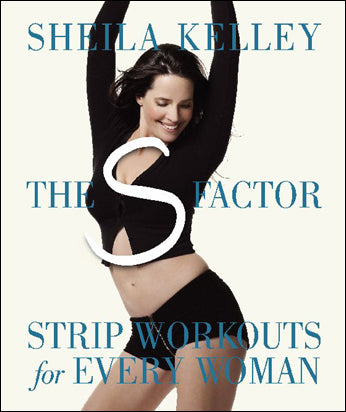 The S Factor
Hipper than Taebo, sexier than Pilates, The S Factor--stripping--is the hottest new fitness trend. Created by actress Sheila Kelley (LA Law, Sisters, and a host of film and Broadway roles), S-Factor classes are wildly popular and generating an avalanche of attention from Extra, Entertainment Tonight, The Los Angeles Times, Allure, Us magazine, Fox News, and CBS's 48 Hours, which proclaimed: "Women don't even know they're working out until two months later when they say, 'I've never had a better body in my life. I'm strong, I'm limber, I feel great.'" Sheila even convinced Barbara Walters to try a pole dance on The View.

No wonder. Combining yoga, dance, and erotic movements, The S Factor is a program that tones muscle, firms the body, increases flexibility, promotes weight loss, and gives you a few new tricks for the bedroom. Illustrated in hundreds of photographs that show step by step how each move is done, the exercises are sensual yet demanding, requiring a balance of strength and finesse. There are slow, rounded warm-ups, the Spine Circles and Hip Circles. Strenuous motions, like the Rocking Cat-Cow. Peels and rolls, grinds, pounces, arches. And pole work, from the Firefly to Descending Angel.

Something else happens, too: These exercises and routines boost self-esteem and give women a new way to think about their bodies. Stripping is a liberating act, out of which comes a new look, new body, new confidence, new you.