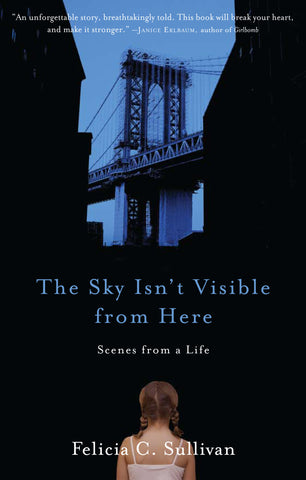 The Sky Isn't Visible from Here
Felicia Sullivan's volatile, beautiful, deceitful, drug-addicted mother disappeared on the night Sullivan graduated from college, and has not been seen or heard from in the ten years since. Sullivan, who grew up on the tough streets of Brooklyn in the 1980s, now looks back on her childhood—lived among drug dealers, users, and substitute fathers. Sullivan became her mother's keeper, taking her to the hospital when she overdosed, withstanding her narcissistic rages, succumbing to the abuse or indifference of so-called stepfathers, and always wondering why her mother would never reveal the truth about the father she'd never met.

Ashamed of her past, Sullivan invented a persona to show the world. Yet despite her Ivy League education and numerous accomplishments, she, like her mother, eventually succumbed to alcohol and drug abuse. She wrote The Sky Isn't Visible from Here, a testament to the resilience of the human spirit, when she realized it was time to kill her own creation.