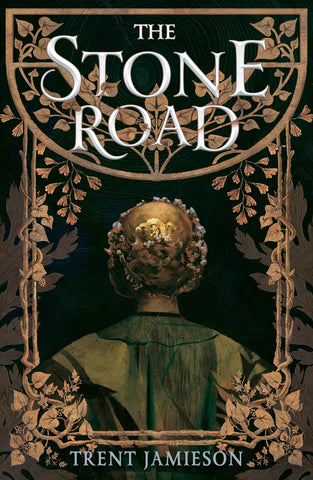 The Stone Road
On the day Jean was born, the dead howled. A thin scratch of black smoke began to rise behind the hills west of town: Furnace had been lit, and soon its siren call began to draw the people of Casement Rise to it, never to return. 
Casement Rise is a dusty town at the end of days, a harsh world of grit and arcane dangers. Jean's stern, overprotective Nan has always kept Casement Rise safe from monsters, but she may have waited too long to teach Jean how to face those demons on her own. On Jean's twelfth birthday, a mysterious graceful man appears, an ethereal and terrifying being connected to the family secrets Nan has hidden from Jean in an effort to keep her safe.
Now Nan must rush Jean's education in monsters, magic, and the breaking of the world in ages past. If Jean is to combat the graceful man and finally understand the ancient evil powering Furnace, she will have to embrace her legacy, endure her Nan's lessons, and learn all she can—before Furnace burns everything down.
With the lyrical cadence of The Last Unicorn and intense imagery of A Wizard of Earthsea, The Stone Road is a timeless story of hope, belonging, and growing into your power.