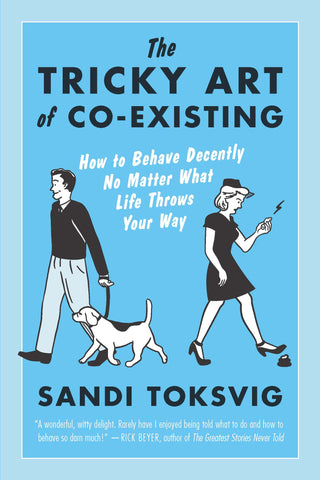 The Tricky Art of Co-Existing
"If you do it right, being a grown-up is just like being a kid . . . but without people telling you off."
No one learns "etiquette" anymore (except by embarrassing trial and error). But manners are more than a dusty tradition: Done right, they make life easier—for everyone! That's why
Sandi Toksvig
highlights decency rather than convention in this entertaining guide, with:
Spot-On Advice: "Remember—you don't have to answer the phone, so don't do it if you don't have time to be polite."
Fascinating Trivia: "It is very rude to clear the plate of someone who hasn't finished. In fact, the Romans believed doing so would bring about the diner's sudden death."
And Her Characteristic Wit: "Focusing on the people you share a meal with is both a pleasure and a necessity. Get to know your family members; you might even like them."
Be the most decently behaved person in the room,
and
the most interesting: Master
The Tricky Art of Co-Existing
!