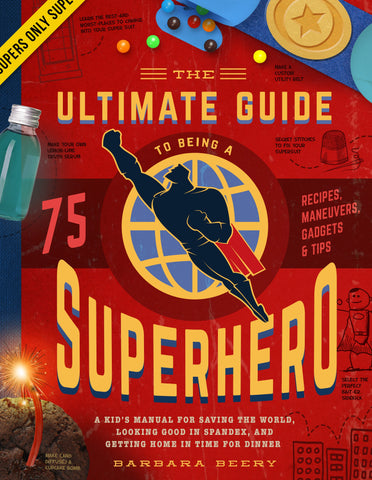 The Ultimate Guide to Being a Superhero
When choosing a sidekick, be sure to coordinate colors.
To get a supervillain monologuing, simply mention that he or she "won't get away with it."
NEVER wear a cape (except to formal events).
With these and other clever insights, The Ultimate Guide to Being a Superhero is more than just a cookbook! This gentle poke at the superhero genre is packed with recipes, maneuvers, and gadgets for every aspiring superhero. National cooking expert Barbara Beery, author of the bestselling The Pink Princess Cookbook, brings her signature flair in this action-packed, fully illustrated manual, sure to delight every superchild and every parent looking for great party ideas. Recipes and crafts include:
Kryptonite Cupcakes
Dinner in Disguise
Dynamite Candy Bites
DIY Utility Belts
Super Suit Stitches
and much more!
Plus must-have tips for every aspiring hero, including:
How to interview a potential sidekick ("How do you feel about being used as bait?")
Where not to house your secret hideout
Common wardrobe malfunctions to avoid
Catchy comeback phrases, and more!