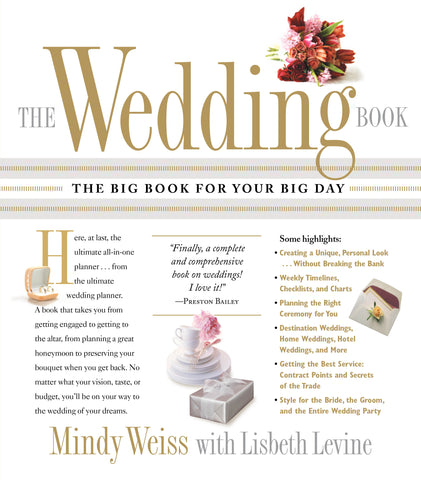 The Wedding Book
It's the wedding bible: the most complete, lively, handholding, step-by-step guide to help every couple have a perfect wedding—no matter their budget, taste, or personalities.

Celebrity wedding planner Mindy Weiss covers everything: announcing the engagement, and what to do when someone isn't happy about the news; creating a budget; the pros and cons of destination weddings. Drawing up the guest list; planning the ceremony (and how to personalize your vows); menus to inspire; contracts and wedding insurance. Shopping for the dress, six great hairstyles, tuxedo vs. dinner jacket, the etiquette of invitations. Style tips for flowers, the tabletop, linens; a cake that says "you"; the crucial "Sixty Days Until I Do"; rehearsal dinner strategies; plus freezing the cake and preserving the bouquet.

Today the average cost of a wedding is $25,000—at $22.95, The Wedding Book is the smartest investment a bride-to-be could make.