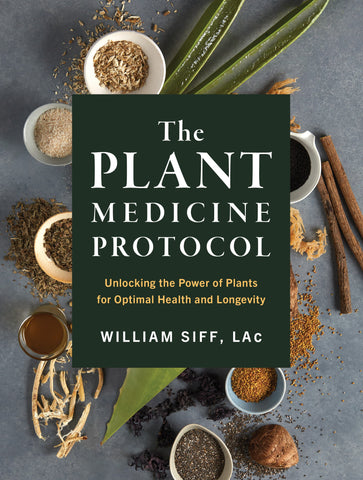 The Plant Medicine Protocol
A groundbreaking protocol for minimizing inflammation, boosting energy, building immunity, improving digestion, and so much more—with the extraordinary power of medicinal plants

The power of medicinal plants is life-changing. When integrated properly into our lives, they are uniquely capable of fine-tuning and strengthening our vital systems. They help to enhance digestion, balance the nervous system, increase energy, improve sleep, promote resilience to stress, reduce inflammation, elevate mood and cognition, increase libido and fertility, boost immunity, support detoxification, nourish the microbiome, and rehydrate the system. And all you have to do? Eat, drink, smell, share, and otherwise enjoy them.
 
Written by William Siff, a licensed acupuncturist, clinical herbalist, and ethnobotanist who practices Ayurvedic and Traditional Chinese Medicine, The Plant Medicine Protocol is a comprehensive and easy-to-follow guide to integrating medicinal plants into daily life. Closely mirroring the approach Siff uses in the clinic and grounded in time-honored longevity practices of the world's healthiest cultures, the protocol is an effective, enjoyable, and practical approach to achieving optimal health, making us feel more energized, vibrant, and alive along the way.
 
From starting the morning with a Chia-Aloe-Lime Rehydrator to mixing up a Nutmeg-Saffron Deep Sleep Elixir before bed, ingesting medicinal plant compounds in moderate amounts every day adds up, contributing to a natural resilience and vitality that fortifies us for a long, healthy life. Plants like ginseng, ginger, sea moss, and lavender contain a host of vital nutrients and unique phytochemicals that accelerate healing and repair while encouraging essential body systems and cellular mechanisms to function at their best. And easy recipes like Sparkling Rosemary Limeade, Peanut Butter–Maca–Goji Berry Smoothies, and Cacao Adaptogenic Energy Balls ensure that saturating your life with these medicinal plants is as practical as it is delicious.