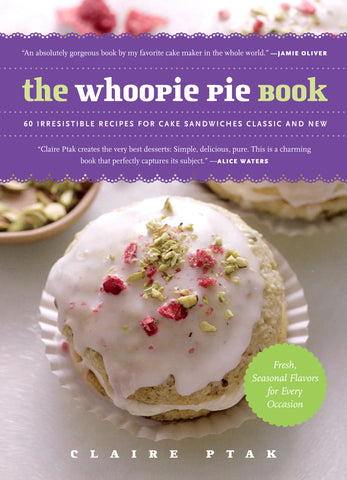 The Whoopie Pie Book
Make way, cupcakes—it's whoopie pie time! Everyone is falling in love with America's classic sandwich treat—two soft cookies with a creamy filling. Now, baker extraordinaire Claire Ptak, a pastry alum of Berkeley's famed Chez Panisse and proprietor of Violet, her own baking company, takes the humble whoopie pie to new heights.
Here are 60 irresistible recipes—made with fresh, seasonal ingredients—that show home bakers how to make the components for more than two dozen distinctive, flavorful whoopie pies:
• Classic whoopie pies, including Chocolate with Fluffy Marshmallow Filling, Chocolate Chip with Chocolate Marshmallow Filling, and Carrot Cake with Cream Cheese
• Iced and glazed treats such as Walnut Whip, Coconut Cream with Coconut Swiss Buttercream, and Meringue with Chestnut Cream whoopie pies
• Topped and drizzled indulgences from Blackberry with Blackberry Cream to Banana Cream Pie with Vanilla Custard Cream
• Frozen and chilled varieties such as refreshing Key Lime Pie and Chocolate Mint with Frozen Mint Chip Cream
• Holiday-themed desserts like Easter Egg and Spooky Halloween whoopie pies—and much more!
 
More than 75 gorgeous full-page photographs showcase every recipe in this book, which also includes a handful of Claire Ptak's other not-to-be-missed sweet treats, including Peanut Butter Sandwich Cookies and Easy Chocolate Macaroons.
The Whoopie Pie Book will inspire and guide every time the whoopie-pie urge hits!