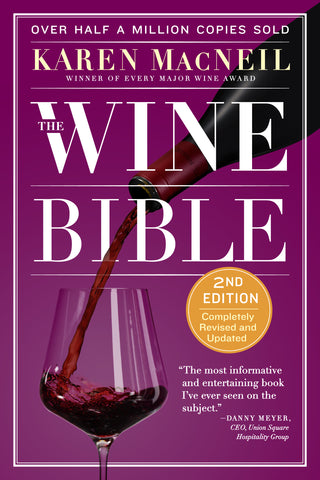 The Wine Bible
No one can describe a wine like Karen MacNeil.
 
Comprehensive, entertaining, authoritative, and endlessly interesting, The Wine Bible is a lively course from an expert teacher, grounding the reader deeply in the fundamentals—vine-yards and varietals, climate and terroir, the nine attributes of a wine's greatness—while layering on tips, informative asides, anecdotes, definitions, photographs, maps, labels, and recommended bottles. Discover how to taste with focus and build a wine-tasting memory. The reason behind Champagne's bubbles. Italy, the place the ancient Greeks called the land of wine. An oak barrel's effect on flavor. Sherry, the world's most misunderstood and underappreciated wine. How to match wine with food—and mood.
Plus everything else you need to know to buy, store, serve, and enjoy the world's most captivating beverage.