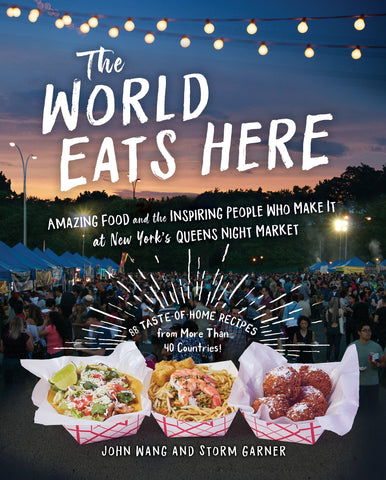 The World Eats Here
Prized recipes and tales of home, work, and family—from the immigrant vendor-chefs of NYC's first and favorite night market

On summer Saturday nights in Queens, New York, mouthwatering scents from Moldova to Mexico fill the air. Children play, adults mingle . . . and, above all, everyone eats. Welcome to the Queens Night Market, where thousands of visitors have come to feast on amazing international food—from Filipino dinuguan to Haitian diri ak djon djon. The World Eats Here brings these incredible recipes from over 40 countries to your home kitchen—straight from the first- and second-generation immigrant cooks who know them best.

With every recipe comes a small piece of the American story: of culture shock and language barriers, of falling in love and following passions, and of family bonds tested then strengthened by cooking. You'll meet Sangyal Phuntsok, who learned to make dumplings in a refugee school for Tibetan children; now, his Tibetan Beef Momos with Hot Sauce sell like hotcakes in New York City. And Liia Minnebaeva will blow you away with her Bashkir Farm Cheese Donuts—a treat from her childhood in Oktyabrsky in western Russia.

Though each story is unique, they all celebrate one thing: Food brings people together, and there's no better proof of that than the Queens Night Market, where flavors from all over the world can be enjoyed in one unforgettable place.