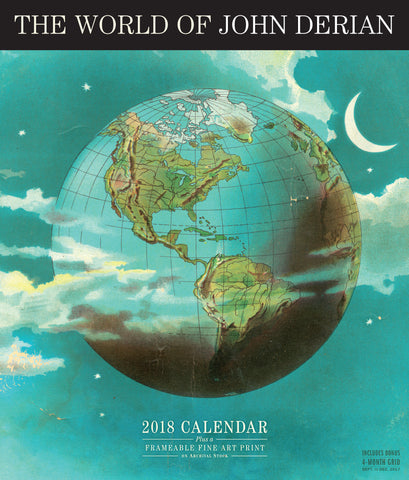 The World of John Derian Wall Calendar 2018
John Derian is an artist and designer who creates timeless, transporting collectibles out of printed images from the past. A botanical illustration of butterflies. Dabs of color from an artist's palette, their jewel-like hues faint but glowing. Victorian etchings of an elephant, a quarter horse, a bouquet of pansies. A wistful note in elegant script. Beautiful, silent, nostalgic, mysterious, they're like images from a dream, like something we might remember seeing in a child's schoolbook from a previous life. Adapted from the astonishing John Derian Picture Book, here is a calendar of singular beauty. Stunningly designed, printed on paper with the tint of a nineteenth-century book, it's a calendar as object of desire, one that captures the ineffable appeal of John Derian's world.

This signature edition calendar includes a bonus gift: an 11" x 14" fine art print of the cover image on archival acid-free stock, suitable for framing. The calendar is printed on uncoated stock and packaged in a handsome full-color gift envelope.