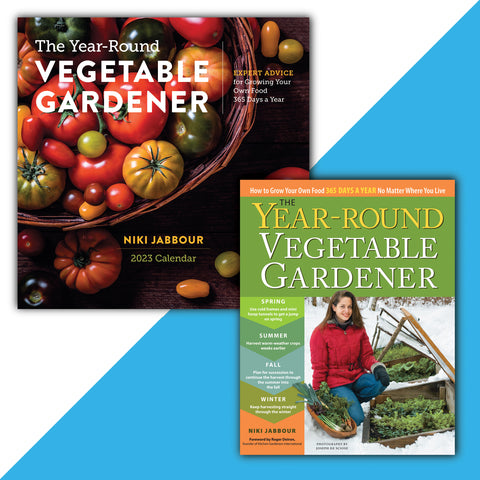 The Year Round Veggie Garden Set
Website exclusive calendar and book set for the vegetable gardener.
 
From vegetable gardening authority Niki Jabbour, here are two ways to enjoy the bounty of the garden all year long. The Year-Round Vegetable Gardener book offers simple but effective techniques for gardening throughout the year. The Year-Round Vegetable Gardener 2023 Calendar features beautiful photos of vegetables from the garden, in every season, along with helpful tips and inspiration.
You can harvest fresh, delicious produce in every season if you know the best varieties, the art of succession planting, and how to build inexpensive structures to protect your crops from the elements. Niki Jabbour draws on insights gained from years of growing vegetables in Nova Scotia; no matter where you live,  her advice will allow you to enjoy a thriving vegetable garden year-round.