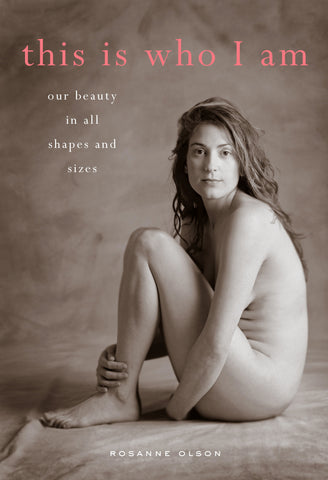 This Is Who I Am
Fifty-four portraits of women that are striking, beautiful, and real. The bodies in this book have been shaped by the full sweep of the feminine experience.

They belong to 54 women from all over the country, ages 19 to 95, of all sizes and shapes, ethnicities, and life experiences, who were willing to expose their naked physical forms in This Is Who I Am. They are ordinary women only in the sense that none is a professional model. They are in all other ways extraordinary—courageous, curious, thoughtful, speaking unflinchingly about their bodies, then allowing themselves to be photographed to inspire other women to make peace with their physical selves, "to glorify the real beauty of all women."

Certainly, the feminine nude form is not new to artists and photographers. But the portraits in This Is Who I Am, taken by award-winning photographer Rosanne Olson, with a steady, unjudgmental eye, speak loudly to the American obsession of feminine perfection—slim hips and full breasts, high cheekbones and tiny waists, taut skin and eternal youth—and even more loudly to the way real women, with real bodies and real lives, look.

By turns tender, personal, and moving, this tribute to contemporary womanhood is the perfect gift for mothers to give to daughters, daughters to cousins, cousins to friends.