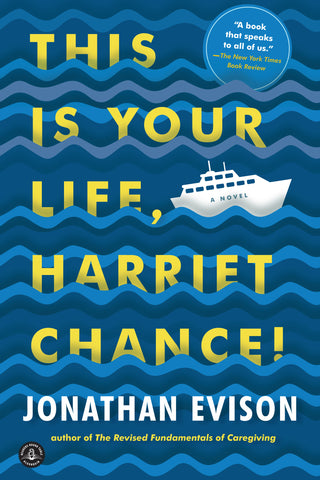 This Is Your Life, Harriet Chance!
"Jonathan Evison is a ridiculously gifted storyteller: racing, breathless, and vibrant with his prose, hungry for personal truths, and clearly in love with the world around us all. That compassion and those writerly charms are deeply felt in This Is Your Life, Harriet Chance!, an irresistible, inventive novel full of important ideas about how we live our lives as parents, children, partners, and human beings." —Jami Attenberg, author of The Middlesteins

With Bernard, her husband of fifty-five years, now in the grave, seventy-eight-year-old Harriet Chance impulsively sets sail on an ill-conceived Alaskan cruise that her late husband had planned. But what she hoped would be a voyage leading to a new lease on life becomes a surprising and revelatory journey into Harriet's past.

There, amid the overwhelming buffets and the incessant lounge singers, between the imagined appearances of her late husband and the very real arrival of her estranged daughter midway through the cruise, Harriet is forced to take a long look back, confronting the truth about pivotal events that changed the course of her life. And in the process she discovers that she's been living the better part of that life under entirely false assumptions.

In This Is Your Life, Harriet Chance! Jonathan Evison has crafted a bighearted novel with an endearing heroine at the helm. Through Harriet, he paints a bittersweet portrait of a postmodern everywoman, her story told with great warmth, humanity, and humor. Part dysfunctional love story, part poignant exploration of the mother-daughter relationship, nothing is what it seems in this tale of acceptance, reexamination, and forgiveness.