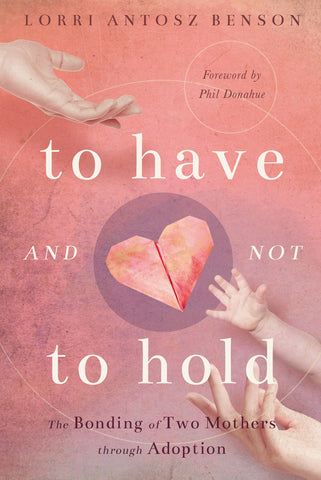 To Have and Not to Hold
When Lorri Antosz Benson, a 24-year-old successful producer for a groundbreaking national television show, finds herself in an impossible situation, she digs deep and faces the heartbreaking reality that the best choice for her beloved new baby is to be raised by someone else.
To Have and Not to Hold is the poignant account of Lorri's momentous decision to give her daughter for adoption, the resulting heartache, and later, the unexpected joy of reconnecting with her daughter and her daughter's adoptive mother. With agonizing yet heartwarming honesty, Lorri offers a profound look at a deep connection of two mothers that is born with the cry of a newborn daughter. What begins as a fragile, tenuous link develops into something dreams and miracles are made of—relationships that go to the soul, are meant to be, and are devoid of fear and possessiveness. To Have and Not to Hold holds much inspiration for any adoptive parent, adoptee, or first/birthparent, but it's a story that anyone will find impossible to put down.