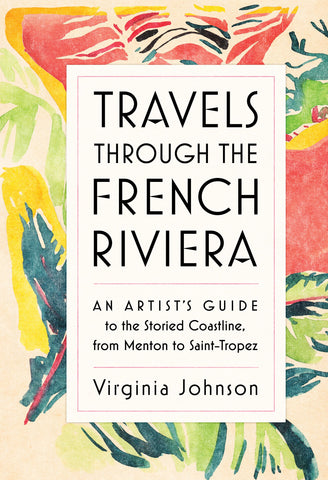 Travels Through the French Riviera
In this irresistible marriage of watercolorist's sketchbook and traveler's guide, Virginia Johnson lovingly captures the magic of one of the world's most storied regions, the French Riviera. We walk the Promenade des Anglais in Nice. Shop for handmade sandals at Rondini in Saint-Tropez. Visit the Madoura workshop in Antibes, where Picasso discovered his genius for pottery. Meet legendary characters like Pierre Gruneberg, a swimming instructor who taught Jean Cocteau, Brigitte Bardot, Paul McCartney, and many others.

Saturated with the limpid colors of sea and sun, the dazzling greens of verdant gardens, and the rose and ochre of sunbaked villas and joyous with paisleys and blue-striped sailor's shirts and the riotous look of a patisserie window filled with confections, Travels Through the French Riviera is a gift book of visual wonder, the souvenir every Francophile will want. But it is also a quirky yet singularly useful travel guide, whether showing how to order coffee like a local, plan a beach day at Menton, or hike the Cap Ferrat peninsula or where to taste the best ice cream in Antibes (at Amarena—try the mint).