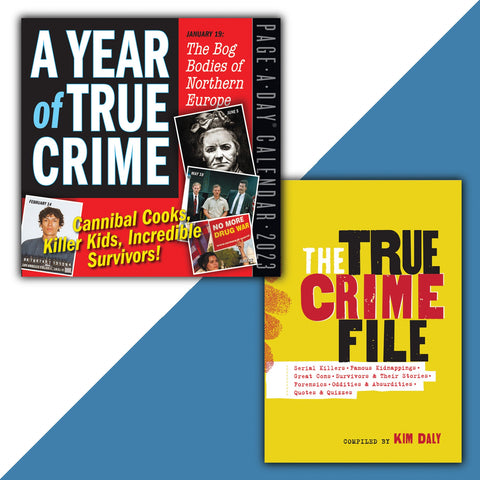 True Crime Bundle
Website exclusive calendar and book set.

Indulge in your passion for true crime all year long.

A Year of True Crime Page-a-Day Calendar is the calendar for true crime fans of all stripes. Each day you'll find cases like Englishwoman Mary Blandy, hanged in 1752 for poisoning her father with a potion to make him approve her betrothal. (The "potion" contained lethal levels of arsenic.) Oddball laws: In Victoria, Australia, it's illegal to vacuum after 10 p.m. Plus cold cases cracked, forensic facts, true crime quizzes, and quotes to give you chills
The True Crime File is a mini encyclopedia packed with stories of killers, cons, survivors, forensic breakthroughs, master thieves, brazen kidnappers and more. Perfect for newcomers and hard-core crime fans alike. Within its pages, you'll find the big names like Bundy, Manson, Berkowitz, Borden, and the Black Dahlia. The lingering mysteries—like JonBenet Ramsey and Natalie Wood. The disturbing puzzle of the Zodiac Killer. The true story behind the most lurid headline ever: "Headless Body in the Topless Bar." Plus a feast of trivia and more.