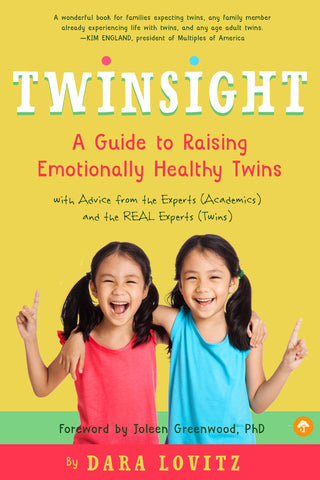 Twinsight
It's a fact: twins experience life differently than singleton children. They're compared to each other in everything from athletics to academics. They encounter unique social issues (what happens when one child is invited to a social outing while her twin is not?). They can even have difficulty forming deep relationships outside of the twinship. Yet no book effectively helps parents navigate these unique emotional challenges—until now.
In the first book written on the emotional needs of twins, Twinsight: How to Raise Emotionally Healthy Twins bypasses the usual discussions on how to pay for two tuitions (a conundrum, to be sure!) and instead tackles deeper questions: How do you help twins feel like individuals? Should they be expected to be each other's caretaker? How can a parent avoid comparing? How can you encourage relationships outside the twinship? and more!
Drawing on over eighty interviews with adult twins and their non-twin siblings, as well as expert insights from educators and psychologists and exhaustive research, author Dara Lovitz offers parents a definitive roadmap to raising emotionally healthy twins now and into the future.