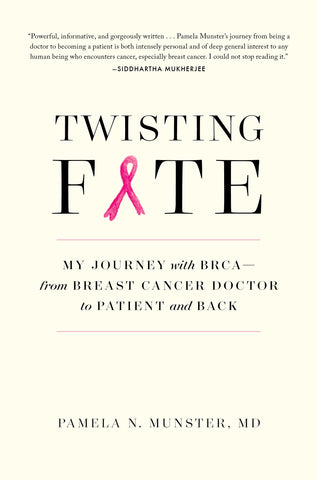 Twisting Fate
From a woman who's made her living researching breast cancer—and who lived through it herself—a personal yet practical guide to the medical and emotional facets of this life-changing diagnosis

A leading oncologist at the University of California San Francisco, Dr. Pamela Munster has advised thousands of women on how to cope with the realities of breast cancer, from diagnosis through treatment and recovery. But her world turned upside down when, at forty-eight years old and in otherwise perfect health, she got a call saying that her own mammogram showed "irregularities." That single word thrust her into a wholly new role—as patient, and not only that of cancer but of the feared BRCA gene mutation as well. Suddenly, she realized that being a true "expert" in a disease was far beyond the scope of her medical training, and that she had a lot to learn if she wanted to hold onto her precious life.

Weaving together her personal story with groundbreaking research on BRCA—responsible for breast cancer and many other inherited cancers affecting both women and men—Twisting Fate is an inspiring guide to living with the uncertainties of cancer. With authority, insight, and compassion, Dr. Munster uses her voice to create a safe space for genuine healing and honesty in a world otherwise too-often dominated by fear—and she is living proof of how important it is to embrace all the twists and turns of fate.