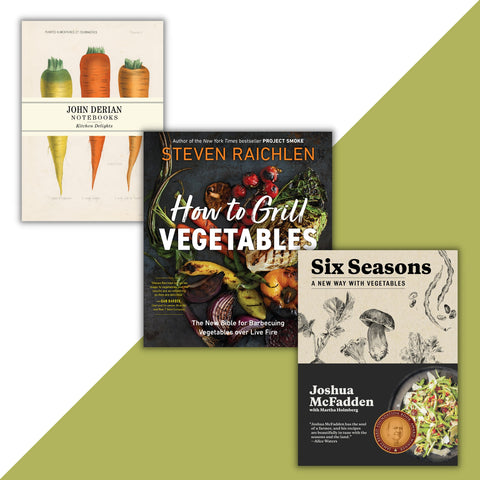 Ultimate Vegetable Lovers' Bundle
The ultimate book bundle for the foodie and the vegetable-forward-cook and gardener, with the best recipes for seasonal produce, and a beautiful set of kitchen-themed notebooks.

Six Seasons: A New Way with Vegetables
Vegetable whisperer Joshua McFadden highlights the evolving attributes of vegetables throughout their growing seasons—an arc from spring to early summer to midsummer to the bursting harvest of late summer, then ebbing into autumn and, finally, the earthy, mellow sweetness of winter. Each chapter begins with recipes featuring raw vegetables at the start of their season. As weeks progress, McFadden turns up the heat—grilling and steaming, then moving on to sautés, pan roasts, braises, and stews. His ingenuity is on display in 225 revelatory recipes that celebrate flavor at its peak. Winner, James Beard Award for Best Book in Vegetable-Focused Cooking

How to Grill Vegetables: The New Bible for Barbecuing Vegetables over Live Fire
Celebrating all the ways to grill green, this mouthwatering, ground breaking cookbook from America's master griller" (Esquire) shows how to bring live fire or wood smoke to every imaginable vegetable. How to fire-blister tomatoes, cedar-plank eggplant, hay-smoke lettuce, spit-roast brussels sprouts on the stalk, grill corn five ways—even cook whole onions caveman-style in the embers. And how to put it all together through 115 inspired recipes. Plus chapters on grilling breads, pizza, eggs, cheese, desserts and more. 

John Derian Paper Goods: Kitchen Delights Notebooks
A vegetable-inspired set of three beautiful notebooks for recording thoughts, drawings, planning meals, or writing down recipes, from artist and designer John Derian.