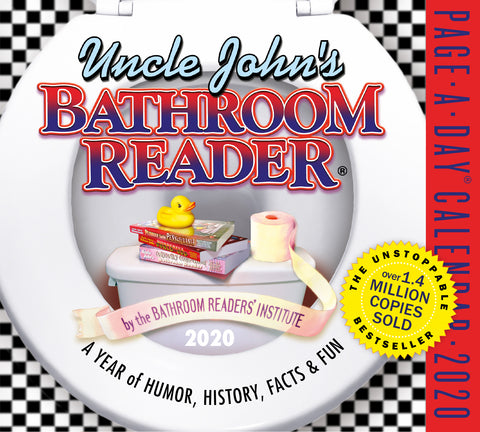 Uncle John's Bathroom Reader Page-A-Day Calendar 2020
Hundreds of absolutely true factoids, bizarre history, and funny crime stories.

No one knows wacky like Uncle John's. Presenting a whole new year of quirky factoids, odd anecdotes, and more weird, wonderful entertainment for the 68 percent of Americans who admit to being bathroom readers. Surprising vocab, like pogonophobe (someone who's afraid of beards). Quirky questions: What is the purpose of earwax? (To keep ears clean and lubricated so they don't dry out.) And intriguing origin stories, like how tater tots were invented. Plus, Thoughts for the Throne, Roll Call, Legal Briefs, Pot-pourri, and Uncle John's Stall of Shame. A humor gift for fun-fact enthusiasts.