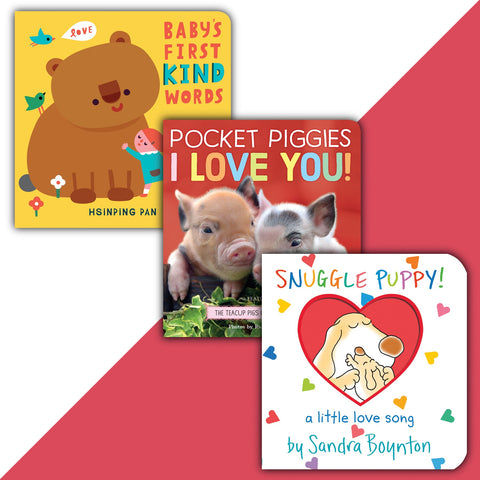 Valentine's Day Kids Set
 
A great big hug in book form.
Snuggle Puppy is a year-round valentine from parent to child. It is bright, chunky, a pleasure to hold, and has a die-cut cover that reveals a glimpse of the joy inside before it's even opened. Best of all, it's packed, of course, with pure Boynton: her inimitable language, her inimitable illustrations, her inimitable sense of fun.

OOO, Snuggle Puppy of mine! Everything about you is especially fine. I love what you are. I love what you do. Fuzzy little Snuggle Puppy, I love you. Featuring a sweet and cuddly doggie cast and rhyming verse, Snuggle Puppy is the perfect bedtime book to read last, because of an ending that kids will want again and again: I started with OOO. . . . Now we'll end like this: [BIG SMOOCH!]

Oversized lap edition also available—perfect for reading aloud!
 

Kindness begins with babies! Introducing concepts of kindness and compassion at the earliest stages of learning helps the idea stick as little ones grow. Through simple words, phrases, and bright, beautiful illustrations by Hsinping Pan, Baby's First Kind Words presents language and actions that demonstrate affection and caring. Charming art brings the nicest words — such as "help," "peace," "welcome," and "thanks" — to life for even the littlest children. This sweet board book is a joyful read that parents and their children will return to again and again.
 

What's the best thing in the world?
I love you more than that!

Celebrate the most magical feeling of all with those lovable Teacup Pigs of Pennywell Farm. Pocket Piggies: I Love You! is a sweet message of love and affection for little kids––on Valentine's or any day of the year!